Setting the Dutch standard for a multiple-day, multiple-stage festival, Lowlands confirms its position as leading festival every year. Music, Cabaret, Theatre, Politics, Food and Leisure all combine into a 3-day experience topped up by spontaneous afterparties on the famous campsite. Its brand new Alpha stage sets a standard on semi-covered stages that can be expanded for a huge crowd outdoor. Ampco Flashlight supplies all stages and audience areas with lighting and sound With preparations starting early in the year, every August the Walibi Flevo festival ground in Biddinghuizen hosts a variety of entertainment, topped up by that special festival atmosphere on the famous campsites. 
Multiple days on multiple stages
Ampco Flashlight project managers gather information on acts. With that information they plan all audio and lighting systems to cater to the wishes of the visiting acts, often with additional equipment for the headliner.  In cooperation with sister company Event Acoustics, precise measurements of sound levels are monitored and maintained via a sophisticated monitoring network, strategically placed measuring microphones and specialists gathering data. This system can pinpoint where and when any levels were exceeded, making sound levels safe for visitors and meeting up with local environmental regulations by minimizing sound pollution for surrounding residents.  

Daniel van Lochem
Account Manager
"From dance to politics, Lowlands has it all!"

Peter Schmitz
Account Manager
"It is inspiring to work for national and international acts"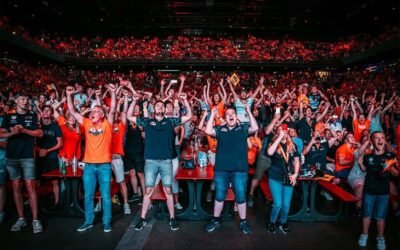 The Orange Army is everywherePopularity of F1 racing has risen skyhigh in Holland, not coincidentally since Max Vertappen joined the grid. While tens of thousands orange fans took over the stands in Austria, another 10 to 15.000 fans saw Max take the victory during a...