The Atlas theatre in Emmen (in the Northern part of the Netherlands) was recently opened serving multiple purposes: Two theatre venues, restaurants, and shops aside the entrance to the Emmen Wildlands Zoo. Ampco Flashlight Sales had the honours of supplying various audiosystems. The main theatre venue seats 822 people on the floor and two balconies. The audio systems comprise of a left-center-right d&b audiotechnik Y-array, expanded with E-series speakers for in/outfills and balcony fills. The smaller flat-floored venue can host 800 standing or 300 seated (on mobile stands) and is powered by a flown d&b audiotechnik T-system.  
All details covered
Both theatre venues are equipped with DIGiCo SD8 and SD9's, which can be freely mixed-n-matched. Lake LM44s take care of routing and processing while being controlled by wireless laptop. All in and outputs are free patchable by custom patch fields.  
 Demands for the background and messaging systems in dressing rooms, foyers and restaurants were extensive. Over 200 Martin Audio loudspeakers (flush and wall mount) are spread all over these rooms to cater for background music, announcements and live stage listening for musicians. In various rooms local inputs were made with aux inputs for local music input.  
Heart of this system is a 40 input-88 output Symetrix Radius matrix, which also routes signals from the electronic reverb  and the intercom system. Assignment of signals for dressing rooms is fast and intuitive through two touchscreen computers.  
 Communications are managed by a clearcom Eclipse matrix, routing twelve Helixnet stations and six freespeak II beltpacks. The matrix offers more than enough room to host dedicated channels for different disciplines. On top of that the smart routing also enables talking from a wireless intercom station to assigned dressing rooms.   
Frans van Houten
Account / Project manager
"Our smart infrastructure ties it all together"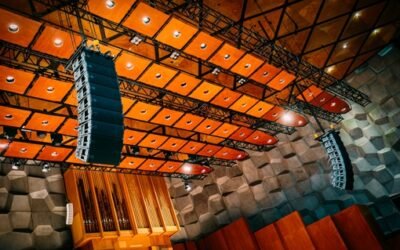 Well known venue with state of the art audio In the Dutch Music scene Oosterpoort needs no introduction. Together with the municipal theatre the combination named SPOT offers a wide variety of performing arts including classical music, rock and pop.   With the recent...