De trofee voor Israel was de apotheose van de grote finale van het 2018 Eurovisie Songfestival, waar Ampco Flashlight een grote rol speelde als leverancier van alle licht, rigging en motion. De voorbereidingen, gestart in najaar 2017, resulteerden in een 6 weken durende bouwperiode op locatie en 2 weken van repetities en live-uitzendingen en een load-out die in slechts 60 uur werd gerealiseerd. Dit alles in samenwerking met Portugese partner Pixel-Light en uitgevoerd met meer dan 2500 lichtarmaturen, 4 kilometer truss en een enorme hoeveelheid kabels, dimmers, distro's die werden aangestuurd door een geavanceerd datanetwerk. 
een paar cijfers: 
3.172 mains power circuit breakers

 

49.284 meter power cabling

 

400 bitterballs (first shipment)

 

38.740 meter data cabling

 

1.858 Interal spotladder parts

 
1 Jim Bowie Green Mountain Grill (black, the one with Wi-Fi)

 

3.908,2 meter trussing

 

2.632 individual lighting fixtures

 

588 electric chainhoists

 

1 airfryer and freezer

 
1.983 days of labour

 

3.688.000.000 liters of truckspace

 

886.290 kilograms of cargo

 

172.365 km truck travelling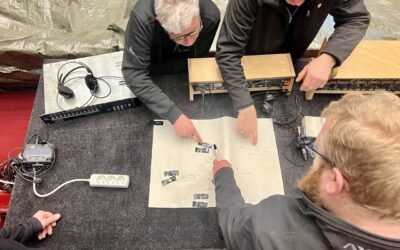 Update intercomsysteem AFAS Circustheater en Beatrixtheater  Utrecht Stage Entertainment staat aan de vooravond van een aantal fantastische musicals. Om de technische communicatie probleemloos te laten verlopen heeft Ampco Flashlight Sales alle Clear-Com apparatuur...