Lowlands behoeft geen introductie en tegelijkertijd kunnen we er niet omheen: het mooiste, grootste en meest uitgebreide meerdaagse festival heeft het festivallandschap in Nederland opnieuw gedefinieerd en blijft dat jaarlijks doen met een mix van muziek, cabaret, film, politiek, eten en ontspanning. Alle podia en publieksgebieden worden voorzien van licht en geluid door Ampco Flashlight. Voorbereidingen starten vroeg in het jaar, zodat de grote variëteit aan entertainment optimaal bediend wordt. Veel keus voor de bezoeker dus, met als bonus die bijzondere Lowlands  campingsfeer. 
Geluid maken en geluid meten 
Ampco Flashlight projectmanagers verzamelen alle relevante informatie over de optredende acts en stellen per locatie een ideale licht- en geluidsset samen, waarbij voor headliners vaak extra apparatuur wordt gereserveerd.  Samen met zusterbedrijf Event Acoustics worden de geluidsniveaus gemeten door een netwerk van meetmicrofoons, in de gaten gehouden door specialisten in het backstage-zenuwcentrum. Zo worden de geluidsniveaus niet alleen veilig gehouden voor bezoekers, maar wordt ook terdege rekening gehouden met omwonenden en natuurgebieden die moeten worden ontzien.  

Nick de Weers
Account Manager
Van Dance tot politiek, Lowlands heeft alles!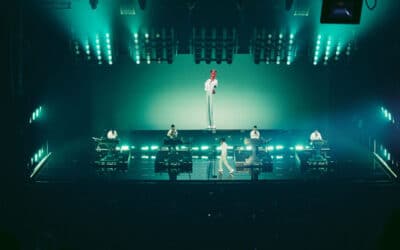 A feast to the senses Who else could be better suited to unify an audience after two years of standstill? Stromae has the ability to move audiences with beautiful songs, his personality and a breathtaking set of technology. Cybermotion automated hoists Important part...