Vijftien podia, 1200 muzikanten, 70.000 bezoekers in drie dagen: North Sea Jazz is een van de meest toonaangevende jazzfestivals ter wereld. Onze licht- en geluidscrew en -apparatuur zorgt voor alle podia: Jazz, Funk, Soul, Hiphop, Bigband, in zalen met capaciteiten van 250 tot 10.000. Eten, drinken, een beurs voor instrumenten, zeldzame platen en cd's, home audio: North Sea Jazz biedt de bezoeker heel veel. Muziek is het belangrijkst, met nadruk op alle facetten van zwarte muziek.  Met meer dan 300 bezoekende bands is het doorslaggevend dat bezoekende engineers bekend zijn met de gebruikte audio- en lichtsystemen in de zalen.
Goede voorbereiding helpt. In dit geval gingen wij in samenwerking met MOJO een stap verder: de backstage Digital Mixing Preproom, waar engineers bekend kunnen raken met de aanwezige digital consoles (DiGiCo en Allen & Heath), waar productspecialisten kunnen helpen met showfiles, softwareversies, vragen en opmerkingen.  Mede hierdoor zag North Sea Jazz goed voorbereide en ontspannen audio engineers. De extra service is voor iedereen de moeite waard!  

Daniel van Lochem
Sales manager Rental
Geweldig om deel uit te maken van dit roemruchte festival!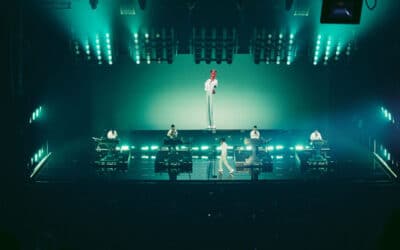 A feast to the senses Who else could be better suited to unify an audience after two years of standstill? Stromae has the ability to move audiences with beautiful songs, his personality and a breathtaking set of technology. Cybermotion automated hoists Important part...