De Televizierring eert programma's, makers, presentatoren, acteurs en talent uit de Nederlandse TV-wereld. Tijdens het grote gala —dat live op TV wordt uitgezonden— worden de 'ringen' uitgereikt, omlijst door muziek en dans. Behalve een eer, is het winnen van de Ring de hoogste mogelijke waardering voor TV-prestaties. Tijdens de afgelopen editie was de winnaar net zo onverwacht als verdiend, en zo blijft deze bijzondere prijsuitreiking een spannende live-ervaring.  
Voor de bezoeker in de zaal en voor de TV-kijker is het van groot belang dat zowel de sprekers als de optredens en de instarts helder, duidelijk en mooi zijn. Een goede voorbereiding en uitvoering is daarbij essentieel.
Licht en geluid van Ampco Flashlight en een verrassende winnaar
Ampco Flashlight is hofleverancier van licht, geluid en rigging voor veel grote Televisieproducties. Ook dit Televizierring Gala waren wij er weer bij met een team ervaren specialisten die ervoor zorgden dat de juiste sfeer en het juiste volume werden bereikt. Zo kon de TV-kijker meegenieten met de spanning en de optredens in de zaal.

Ivan Hamwijk
Account Manager
"De magie van Televisie maken we niet alleen mee, we werken eraan mee!"

Juan Neele
Account Manager
"De gezonde druk van een live-uitzending zet ons op scherp"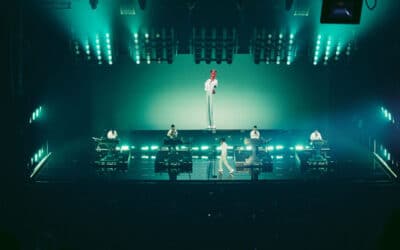 A feast to the senses Who else could be better suited to unify an audience after two years of standstill? Stromae has the ability to move audiences with beautiful songs, his personality and a breathtaking set of technology. Cybermotion automated hoists Important part...