Een plek met water, riet, bos, open plekken, strandjes en paadjes die nergens heen lijken te leiden. Een plek om je te verliezen in de natuur en in de muziek. En dat lukte! Wildeburg was al snel uitverkocht en bood een nieuwe ervaring voor het festivalpubliek dat toch aardig verwend is in Nederland met zijn enorme festivaldichtheid. 
Wildeburg is niet een festival waar je een paar uurtjes gaat kijken. Alleen al door de locatie blijf je langer, en dompel je je onder in alles dat je geboden wordt. Lome house, rauwe techno, melodieuze pop, diverse kunstvormen, chillplekken, waterpartijen en strandjes. Niet verbonden door perfect geasfalteerde en bewegwijzerde wegen, maar door kronkelende paadjes dwars door metershoog bamboe, dat de bezoeker steeds weer voor nieuwe verrassingen plaatst.
Dansen en dolen in de polder
Aan Nick de Weers en Haye Pasma de taak om een lichtinstallatie mede te bedenken, aan te bieden en uit te werken. Een uitdaging, maar niet onmogelijk voor een team technici dat gewend is om een breed scala aan bands, festivals, televisie en theatervoorstellingen te belichten.  
Timo brengt in dit geval een team creatievelingen bij elkaar om een totaalontwerp te doen per area. Decoratie, sfeer en techniek worden zo op elkaar afgestemd. Zodra het om de details van het lichtoplan gaat komt Haye in beeld om de areas in te vullen. Timo overziet het geheel en duikt samen met Haye in de details.  
"Het licht moet passen op 2 manieren: binnen de creatieve ideeën en binnen het budget" aldus Nick. "En het leuke is dat we zelf een actieve rol kunnen spelen bij de invulling van het licht, kunnen sparren met de klant en binnen ons assortiment kunnen zoeken naar juist dat effect dat Wildeburg wil bereiken". Dat is een klusje voor Haye die, juist op momenten dat de locaties lastig, de plannen onconventioneel en de klanten ambitieus zijn, gewapend met zijn kennis en ervaring al snel door de bomen het bos ziet. 
"Het is mooi om een festival een eigen gezicht te geven met het lichtontwerp en daarin samen met de klant op te trekken. Ik heb ze dan ook het liefst naast me zitten, zodat we samen kunnen brainstormen hoe we binnen het budget een zo mooi mogelijk plan kunnen bedenken, dat ook nog eens uitvoerbaar moet zijn". 

Nick de Weers
Account Manager
Samen met de creatieve klant tot een mooi resultaat komen, dat geeft een kick!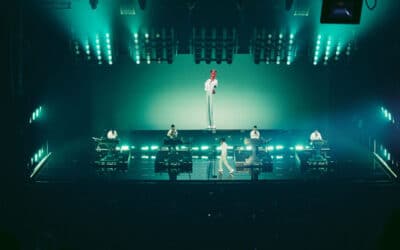 A feast to the senses Who else could be better suited to unify an audience after two years of standstill? Stromae has the ability to move audiences with beautiful songs, his personality and a breathtaking set of technology. Cybermotion automated hoists Important part...