Londen heeft de City, Amsterdam heeft de Zuidas: het zakelijke hart van Nederland, thuisbasis voor de top in financiële en juridische bedrijven. WTC is de meest prestigieuze plek op de Zuidas en biedt  behalve kantoorruimte ook een groot pakket aan faciliteiten voor de huurder. Het event dat de start van de herbouw van één van de torens markeert past in WTC's ambitie: verrassend, uitdagend en de top in evenemententechniek boden de bezoeker een visueel spektakel. Alle audiovisuele faciliteiten geleverd door Ampco Flashlight. 
Een reis naar 2021
Het is geen alledaagse opdracht: Maak van een kantoortoren een eventlocatie, waarbij de al deels ontmantelde WTC D-toren een centrale rol speelt.
Met videomapping door veertien projectoren, effect- en sfeerverlichting en een audiosysteem op maat werden de bezoekers meegenomen op reis naar 2021, het jaar waarin 'Tower Ten' zal worden geopend. Ampco Flashlight levert niet alleen de techniek, maar verzorgt ook een projectmanager die als centrale contactpersoon fungeert tussen alle technici en de andere partijen. Een vlekkeloos event was het resultaat, we kijken nu al uit naar 2021! 

Menno Vermeer
Account manager Corporate
Geweldig om met zoveel professionals samen te werken!

Marc Lubberts
Sales Director Corporate
De zakelijke markt vraagt om een aanpak en een pak op maat.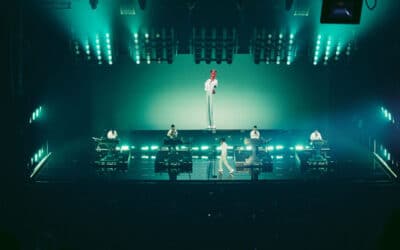 A feast to the senses Who else could be better suited to unify an audience after two years of standstill? Stromae has the ability to move audiences with beautiful songs, his personality and a breathtaking set of technology. Cybermotion automated hoists Important part...