Ampco Flashlight Studio's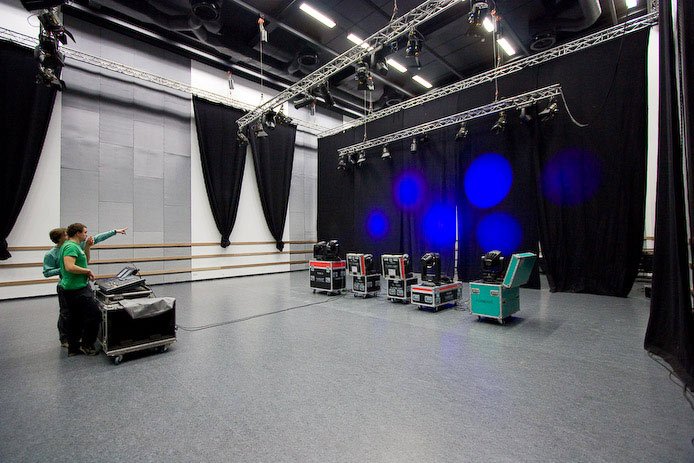 De Ampco Flashlight studio
Repeteren in een grote, geïsoleerde studio met alle technische faciliteiten binnen handbereik? De geluidstechnicus in een eigen studio laten premixen of programmeren? De lichtontwerpers hun shows laten voorbereiden en renderen? Een meet & greet met fans of pers? In ons pand aan de Proostwetering in Utrecht kunt u tegen geringe kosten terecht in onze compleet uitgeruste studioruimtes (akoestisch gescheiden dus lawaai maken mag..), onze zeer fotogenieke hal / lobby en ons bedrijfsrestaurant met de mogelijkheid uw setup aan te vullen met materialen naar eigen wens. Desgewenst kan studio 2 bijvoorbeeld worden ingericht als studio/mixruimte, zodat de technici kunnen voorbereiden in een aparte ruimte. Centraal gelegen aan de A2 in Utrecht biedt ons pand de perfecte bereikbaarheid met volop gratis parkeergelegenheid. De studio's zijn prima bereikbaar vanaf de loadingdocks.
Studio 1 :
Afmetingen Lang: 24,6m, Breed: 13,6m, Hoog: 9m
Inrichting studio
In de studio is standaard werklicht aanwezig. Er is geen standaard geluidsset aanwezig. Vanzelfsprekend kan deze op aanvraag door ons verzorgd worden. Extra of andere verlichting is uiteraard mogelijk.
Door het gebruik van takels aan trolleys kan eenvoudig licht, geluid of decor op verschillende plekken gehangen worden.
Uiteraard in overleg en na goedkeuring ivm dakbelasting.
Wordt er gedanst in de studio? Dan is het aan te raden een Marley mee te nemen tegen de gladheid. Als wij dit voor u kunnen verzorgen, horen wij dat graag.
Materiaal
4x truss 12m (type Minibeam)
8x motortakel 1000kg
12x loopkat
Stroomvoorziening
4x CEE 16A 230V
1x CEE 16A 400V
1x CEE 32A 400V
1x Powerlock 400V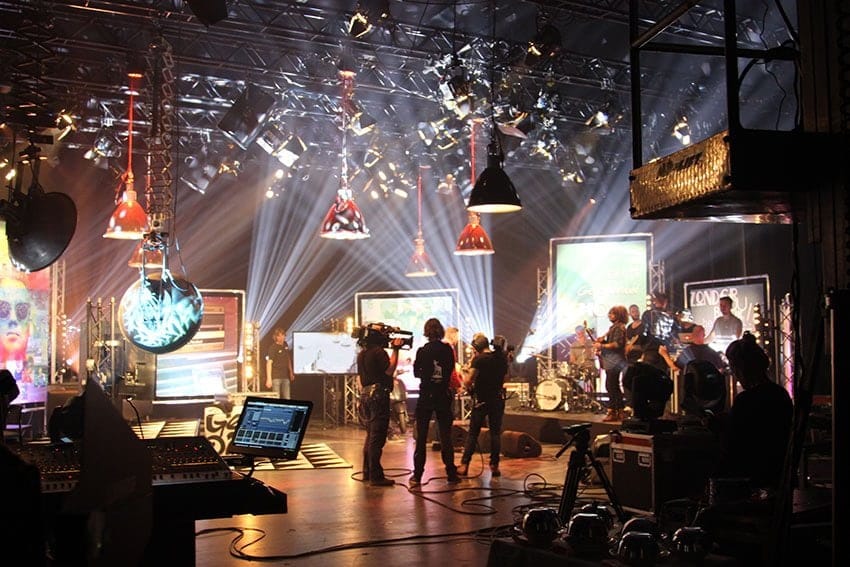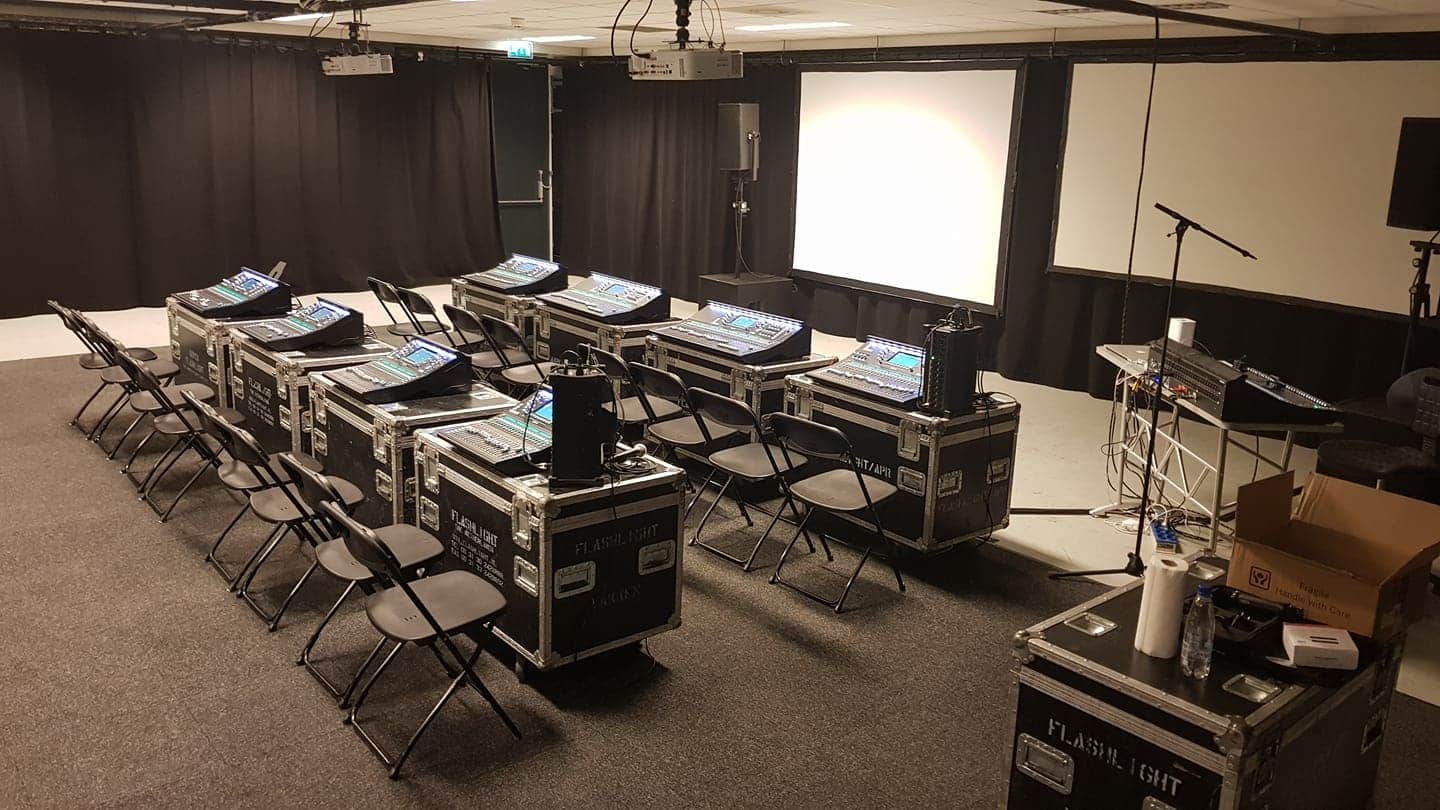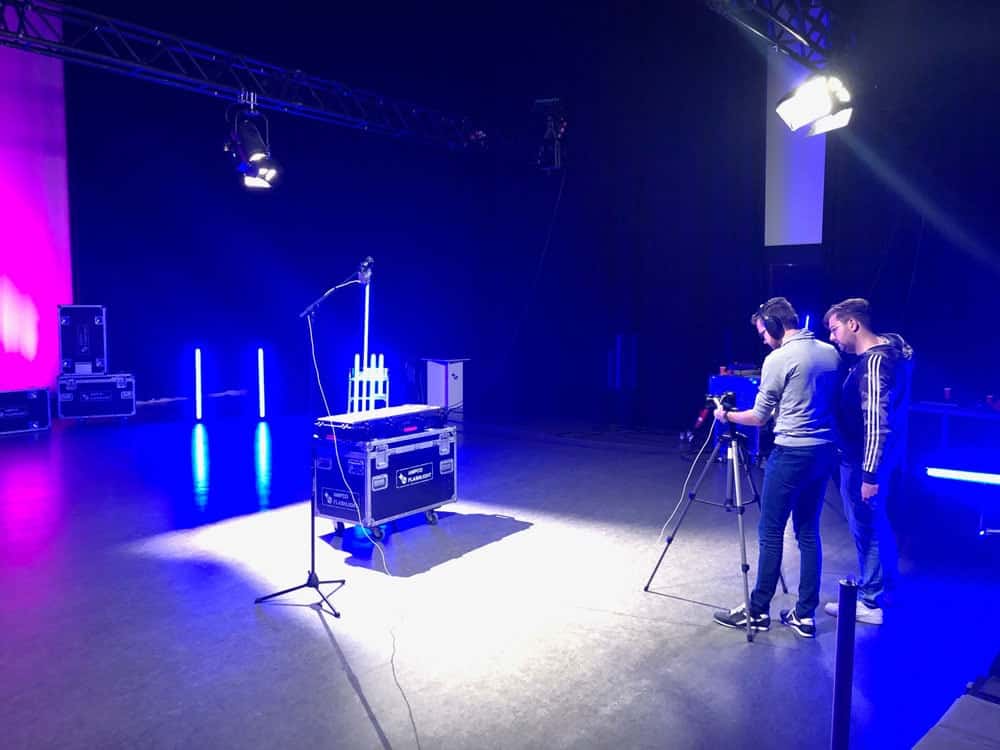 Studio 2:
16 x 12 M, met ruime stroomvoorziening, direct bereikbaar vanaf loading dock. Deze studio is, net als studio 1, akoestisch gescheiden van de rest van het gebouw zodat ook luide voorbereidingen hier kunnen plaatsvinden. Kan ook gebruikt worden als uitbreiding op studio 1 als regieruimte, control room of ruimte om apparatuur voor te bereiden.
Studio 3: WYSIWYG studio
6 x 6 M, verduisterd. In onze wysiwyg studio kunnen lichtontwerpers en -technici in een aparte ruimte werken aan voorbereiding en simulatie van de lichtshow.
Perspresentaties, promotiefilms
Regelmatig bieden wij plaats aan perspresentaties, promotiefilms, behind the scenes meetings of opnamen voor omroepen. Wij helpen u daarmee graag, vraag naar de mogelijkheden !
Kleedruimte
Studio 1 beschikt over een bescheiden aparte kleedruimte, daarnaast is er de mogelijkheid om een aparte ruimte als productiekantoor te gebruiken.
Openingstijden
Maandag t/m Vrijdag:
De studio is geopend tijdens kantoortijden, van 9.00 tot 17.30 uur. Wanneer u buiten deze tijden gebruik wilt maken van onze studio dan kunnen daar aparte afspraken over gemaakt worden.
Zaterdag & Zondag:
Ons pand is normaliter gesloten, mocht u echter gebruik willen maken van de studio dan kunnen daar aparte afspraken over gemaakt worden.
Catering
Diverse (afhaal)restaurants en bezorgservices vlakbij, foodcourt op 1 KM afstand.
Indien gewenst adviseren wij graag over de mogelijkheden.