NTI is gevestigd in Liechtenstein, wat op zich al bijzonder is. Waar ze echter het meest door opvallen is hun bijzonder mooie en handige meetapparatuur, waaronder geavanceerde geluidsmeters, -generators en –analysers. Niet alleen voor geluidstechnici, maar zeker ook in civiele toepassingen worden de meters van NTI veel gebruikt. Voor metingen in openbare gebouwen en voor metingen op en tijdens festivals of andere buitenevenementen bent u bij NTI aan het juiste adres.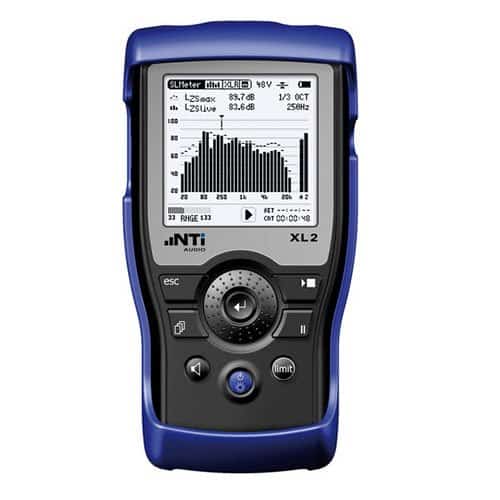 XL2 sound level meter
De handheld XL2 Analyzer is een krachtige geluidsmeter, professionele Acoustic Analyzer, zeer precieze Audio Analyzer en  trillingsmeter in één. Gemakkelijk te bedienen, en uit te rusten met meerdere opties en uitbreidingen.
Sound Level Meter
Spectrum Analyzer
STIPA Analyzer
Audio Analyzer
Vibration Meter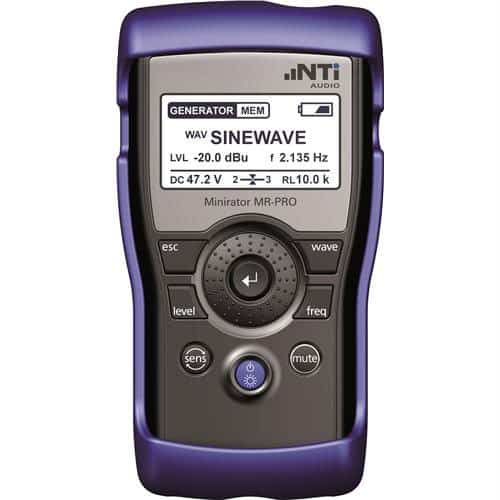 MR2/MR-PRO Minirator
Naast de grote bibliotheek van te genereren audiosignalen biedt de MR-PRO ook inzicht in signaalbalans, phantom power en impedantie. Een geintegreerde XLR kabeltester maakt het leven gemakkelijk. 
De MR2 biedt alle basis-testsignalen voro dagelijks gebruik tegen een zeer scherpe prijs. Beide typen zijn bewezen en volledig doorontwikkelde tools voor de professionele audio-engineer.
Sound Level Meter
Spectrum Analyzer
STIPA Analyzer
Audio Analyzer
Vibration Meter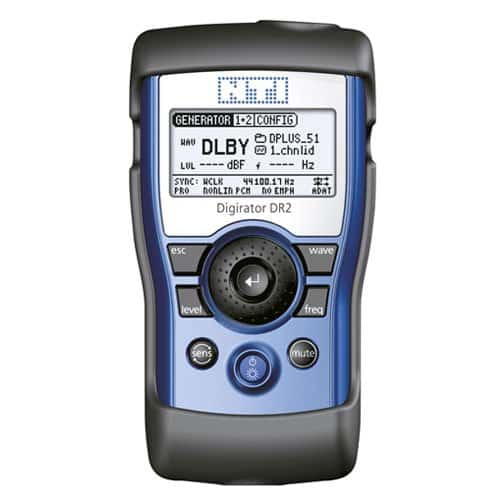 DR2 Digirator
The Digirator DR2 is een 'reference-grade' digital audio signal generator met trafo-gebalanceerde AES3, S/PDIF, TOSLINK en ADAT outputs. DR2 biedt een breed pakket aan testsignalen zoals sine, pink noise, white noise, polariteit, delay, chirp en sweep.
Digital Audio Signal Generator
AES3, S/PDIF, TOSLINK and ADAT
Dolby Digital, Dolby E and DTS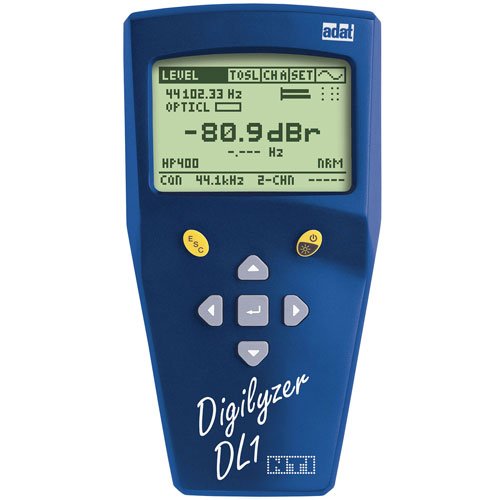 DL1 Digilyzer
Digilyzer DL1 is een krachtige digitale audio analyzer. Testen, monitoren en probleemoplossen van digitale audio interfaces is makkelijk met deze compacte tool die AES3, S/PDIF, TOSLINK en ADAT met samplingfrequenties tot 96 kHz ondersteunt.
Digital Audio Monitoring
Channel Status Analysis
Carrier Measurements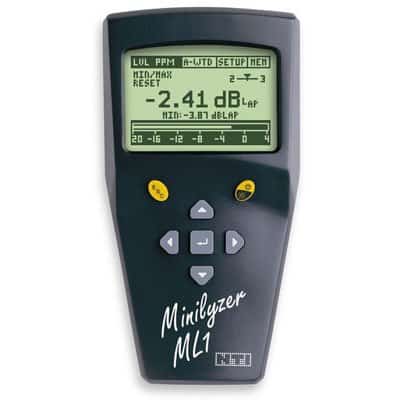 ML1 Minilyzer
The Minilyzer ML1 is een handheld analyzer voor analoge audiometingen van essentiele audiofuncties.  De Minilyzer ML1 maakt controle, foutopsporing en monitoring veel makkelijker.
Analog Audio Analyzer
Polarity Tester
vu+PPM Meter
FX100 Flexus
The FX100 is een unieke professionele audio analyzer die zich aanpast aan uw toepaasing. Hij biedt uitgebreide metingen inclusief passed/failed tests in minder dan 1 seconde. De FX100 is geschikt voor twee of vier parallel kanaals operatie, speaker impendantie testen en digitale audio metingen. Switcher modules bieden additionele in- en outputs.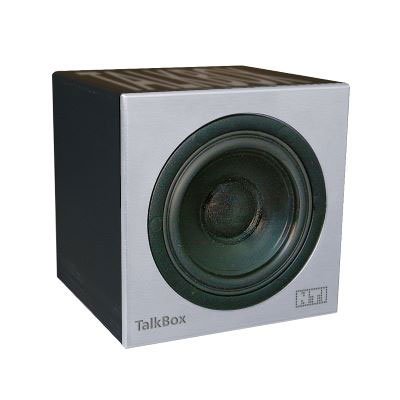 Talkbox
De TalkBox is een akoestische signaalgenerator voor omroep- en ontruimingssystemen, daarnaast een level-alignment systeem voor teleconferencing of andee systemen. Hij biedt een complete end-to-end controle en rapportage van de STI-waarde, van de microfoon van de spreker tot aan de oren van de luisteraar.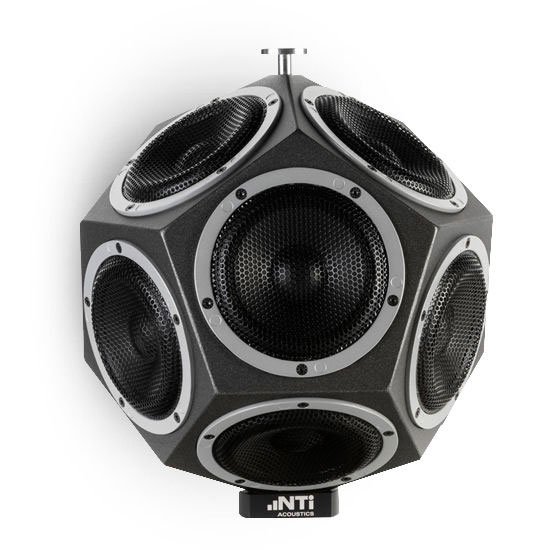 DS3 omni speaker
De Omnidirectionele DS3 Dodecahedron Speaker is een lichtgewicht en krachtige geluidsbron voor metingen in ruimten en gebouwen. De DS3 combineert met de remote-controlled PA3 Power Amplifier en vormt zo de Dodecahedron Speaker Set. De geoptimaliseerde frequentierespons biedt zeer precieze metingen die voldoen aan ISO 16283 en ISO 3382 standaards.
Meetmicrofoons
NTI meetmicrofoons zijn geoptimaliseerd voor een flat, free-field response binnen de   5 Hz – 20 kHz frequentierange. Metingen van geluidsdruk tot 155dB zijn mogelijk met bepaalde modellen.
Alle microfoons zijn omnidirectioneel en 48V phantom powered. De XL2 Analyzer microphones bevatten tevens een electronische datasheet.De Automated Sensor Detection (ASD) van de XL2 herkent welke microfoon is aangesloten en zorgt zo voor zeer precieze metingen.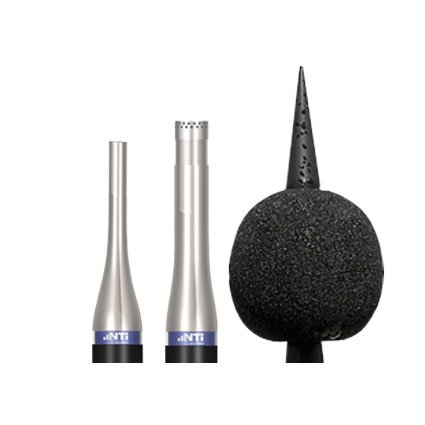 M2230 Class 1 / Type 1 Certified 1/2″ detachable 16-137
Noise Measurements, Building Acoustics, Legal Applications
M2230-WP Class 1 / Type 1 1/2″ detachable 16-137
Outdoor Noise Monitoring
M2211 Frequency Response Class 1 / Type 1 1/2″ detachable 21-144
Noise Measurements, Cinema Calibration, PA Rental
M2215 Frequency Response
Class 1 / Type 1 1/2″ detachable 25-153
High Level Noise Measurements
M4261 Class 2 / Type 2 1/4″ fixed 27-146
Live Sound, Installations, Broadcast, Occupational Health
M2010 Frequency Response
Class 1 / Type 1 1/2″ detachable 24-145
Industrial Manufacturing, Quality Control, R&D
M2015 Frequency Response Class 1 / Type 1 1/2″ detachable 34-155
Industrial Manufacturing, Quality Control, High Level Measurements

Martijn Levering
NTI Specialist
"Binnen NTI zijn vele mogelijkheden, ik denk graag met u mee!"